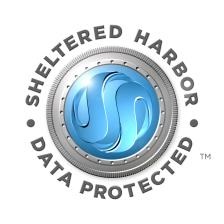 In today's connected world, cyber resilience is critical to any financial institution's survival. Cyber threats are unpredictable, ever changing, and evolving from being mainly financially motivated to now include political ideology and in some cases, perpetrated by highly sophisticated nation-state actors. A paralyzing attack that prevents customers from accessing their accounts could not only destroy an institution, it could cause panic that infects the entire financial system.
In our ongoing effort to further secure customer information and enhance data privacy, I am pleased to announce that Meadows Bank has joined Sheltered Harbor to provide an added layer of protection in our information security program. Sheltered Harbor is the not-for-profit, industry-developed standard for protecting and recovering customer account data if a catastrophic event like a cyberattack causes critical systems to fail.
Every day, we back up your data to a secured designated vault that is completely separate from the rest of our system so that cyber criminals cannot get to it. This means your account data is secure even in the event of a devastating cyberattack on our network. Our commitment to implement the Sheltered Harbor standard to protect critical customer account data against a catastrophic failure demonstrates that we are doing our part to protect our customers and preserve public confidence in the financial system.
The Sheltered Harbor standard combines secure data vaulting of critical customer account information with a resiliency plan to provide customers timely access to their funds during a prolonged systems outage or destructive cyberattack. As a participating financial institution that has successfully implemented the standard, we have earned the Sheltered Harbor certification.
Our Sheltered Harbor certification shows that we care about protecting our customers and is key to guarding not only our institution, but also the entire financial system. It is an important step in mitigating cyber risk and proclaiming that we are proactive when it comes to cyber resiliency.
We joined Sheltered Harbor to protect our customers, and our certification means we've implemented it.

Every day, we back up your data into a designated vault completely separated from the rest of our systems so
cyberattackers can't get to it.

Your account data is safe, even in the event of a destructive cyberattack by criminals or nation-states.
Even though we take every step possible, we know that we cannot prevent an attack, but we can survive one. Rather than having a plan to react to an attack, we prepare to respond. Our layered protection, including our Sheltered Harbor certification, gives us the tools to do so.